3 Easy Strategies for Choosing What to Wear to the Gym
Please note, some of the links in this post may be affiliate links. If you click through and make a purchase, I may receive a small commission (at no additional cost to you). I only recommend products that I use and have found helpful!
Whether you workout at home or go to the gym it's important to dress appropriately. Obviously, you want to look good and feel confident in what you're wearing, but you also need to be comfortable. When shopping for workout clothes, you'll want to keep a few things in mind, including comfort, material, and safety. These 3 tips for choosing what to wear to the gym will help you find the best clothes for you. Then I'll share a few of my favorite things so you can see what I prefer to wear.
Helpful Tips for Choosing What to Wear to the Gym
A few questions that usually come to mind when I'm shopping are:
Will I be able to move? Think about the exercises you will be doing. Then consider if the clothes will provide enough flexibility to perform your workout. You need to be able to move around and not feel constricted by too small or tight clothes.
Does this minimize annoying jiggling? It's kind of funny to write that out, but I do think about whether a specific outfit will provide support in all the right places or not. If you aren't feeling supported when you move (think cardio), you might feel self-conscious and not push yourself very hard because you're uncomfortable or too worried about what you might look like to others.
Will I be too sweaty while working out in this? I'm one of those girls that actually sweats while she works out (My motto? If you still look cute at the end of your workout, you didn't work hard enough!) I know that if I feel too sweaty and my clothes are keeping in moisture vs wicking it away from my skin that I start to feel gross. So the material choice really is important. For me, the goal is to be comfortable and confident while working out. While this may sound like a difficult thing to achieve, this guide can help you choose what to wear to the gym for maximum comfort while working out.
Get the Right Fit
First and foremost, comfort should be your main objective. You want to choose athletic clothing that is not only comfortable and fits your body but also fits the type of workout activity you'll be doing. Don't fall into the trap of wanting something trendy over comfort or you will soon find you are skipping your workouts altogether because you're self-conscious or the workout clothes don't fit right. Believe me, you don't want to have to a wardrobe malfunction or have to keep readjusting, pulling, or tugging at your outfit.
Clothing Material
Believe it or not, the clothes you wear can have a direct impact on the way you feel once your workout is complete. Wearing clothes made out of breathable material will help to keep the sweat away from your skin, keeping your body cool.
For low-sweat activities, like weight lifting or yoga, cotton and cotton-blends may be perfectly fine. However, for high-sweat activities, I recommend looking for something made out of a wicking material. These materials not only draw moisture away from your body but also keep you dry and cool. Look for materials like polyester, polypropylene, nylon, and spandex.
To learn more about the science behind moisture-wicking clothing, check out this video – and hang in there until the end for a really dope explanation that I wasn't expecting!
Safety
If you have any prior injuries*, try to find the right tools to allow you to exercise freely. Maybe you have weak ankles or knees from previous injuries. I personally wear a stabilizing ankle brace when I play volleyball since I've suffered from twisted and sprained ankles in the past. Sometimes finding the right support brace is all you need in order to get back in the game or adding cardio back in your workout regime.
*Note: If you have a current injury, or something that keeps you from working out, talk to your doctor before starting any new workout program.
Weightlifting gloves can help prevent injuries such as blisters or cuts on your hands which may cause you to have to take unexpected time off from your routine, leading to a lack of motivation to keep lifting weights. Below are a couple of inexpensive options you can find at Target.com.
If you prefer to exercise or run outdoors, stay away from dark clothes. It's a better idea to wear light-colored, reflective clothing to make it easier for motorists to see you.
What to Wear to the Gym
Now that you have a few key things to look for when shopping for your workout clothes, let's talk about specific items that you might want to choose.
Bottoms
When it comes to choosing your bottoms, you'll have to find out what style is most comfortable for you. I personally tend to go for capris or a cropped style leggings that fall just below my knees vs full length or shorts. It's really just a matter of preference. I think leggings are great for almost all exercises, but if you prefer shorts or sweatpants, those are great options too. You just want to make sure you have a full range of motion and flexibility and that you can comfortably move in whatever bottoms you choose to wear.
A few of my favorite places to shop for leggings are:
Old Navy
I love their compression leggings. They feel great, have enough stretch, but also keep everything in and I notice less "jiggling" (versus wearing shorts) when I'm doing cardio. I feel most comfortable in compression leggings like these shown below.

These leggings feature:
85% polyester, 15% spandex
Moisture-wicking compression fabric
Designed for peak performance and athletic core support
Breathable mesh panels at the knees and gusseted crotch for ease of movement
Panaprium
These leggings are super soft to the touch, have four-way stretch for flexibility in all directions, plus they have such cute patterns! In addition, these leggings feature:
82% polyester 18% spandex
Antimicrobial moisture wicking fabric
Quick-drying for comfort and convenience
Naturally breathable to keep you cool
simplyWORKOUT
They carry many different brands of leggings here. So you can shop all in one place. If you're looking for some fun patterns and different styles you can use the code below to get free priority shopping!
Tops
Back in the day, there were only a couple of options when it came to tops. Usually, I'd just grab a big old baggy t-shirt. The problem with big shirts is that they tend to get in the way because they were usually made of cotton and would hold in the moisture when I sweat, leaving me feeling weighed down, hot and clammy.
Instead, I recommend looking for something that's more form fitting than a t-shirt. When I was trying to figure out what to wear to the gym, I found that I prefer tank tops instead of shirts with sleeves. I like tank tops because sleeves can't get in the way of me seeing both my form as well as my muscles in action. This is important not only because I get more inspired by the changes I'm seeing in my body, but so I can also correct my form if necessary (and it can be hard to see that if I'm wearing a big shirt).
Here are some of my favorite places to get tank tops:
Target
I really like the C9 Champion line of activewear. Their fitness tops are super affordable and are great quality. You can check out the variety of tops they offer online at Target.com. This is my also go-to brand for sports bras too!
These tanks feature fun fitness sayings and graphics and they regularly have great sales with rotating styles and designs. I love the racerback style. It's a great fit, soft to the touch and is made from 60% combed ring-spun cotton/40% polyester lightweight jersey.
Good Shoes
Finding the right shoe is the key to helping you reach your fitness goals and help you avoid injury. If your feet hurt, are not supported, or you get blisters, guess what? You're not going to want to workout! Depending on the type of exercise you'll be doing, you will want to have specific types of shoes for each activity. You don't want to wear running shoes for weight training and vice versa. Consider going to an athletic store where they can measure your feet for correct sizing and even do some tests to analyze your gait and recommend the best shoes for you to wear to the gym.
If you know what brands you like and fit well you can shop online. And if you're a Reebok girl, make sure to check their online store for deals.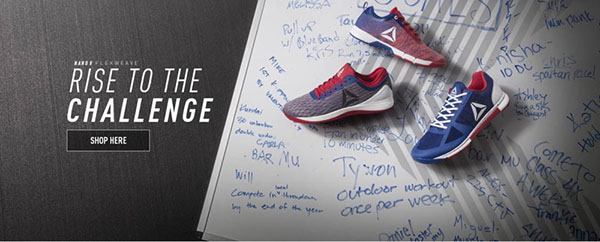 Reebok has both running and training shoes to choose from. You can find their daily deals here!
Choose What's Right for YOU
Ultimately, the type of clothes and gear that you wear when working out will depend heavily on what type of exercise you are doing, what looks and feels good, as well as your budget. By using these tips for choosing what to wear to the gym, you can get started with a few pieces, try them out, and then build your workout wardrobe from there! Have any favorite brands or tips on what to wear to the gym? Comment below, I'd love to hear about it!
If you're new to working out, have been away for a while, or need some help getting back into it, continue reading:
A Beginner's Guide to Working Out
4 Ways to Start a Workout Routine and Actually Stick to it!
Want Workout Motivation? Try This One Trick!
5 Fitness Motivation Tips – When You Just Don't Wanna Workout
If you found these tips helped at all, go ahead and hit that share button or save this to Pinterest for Later! Happy shopping!