The Importance of Hydration – Part 4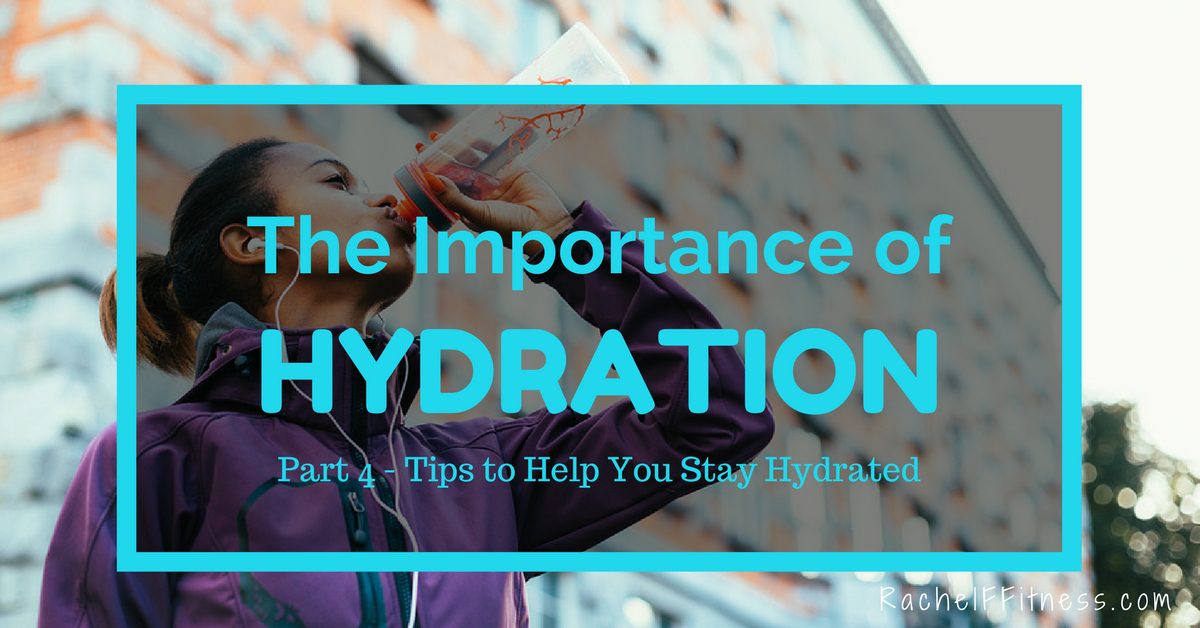 Please note, some of the links in this post may be affiliate links. If you click through and make a purchase, I may receive a small commission (at no additional cost to you). I only recommend products that I use and have found helpful!
5 Ways to Drink More Water
There are numerous ways you can go about increasing the amount of water you drink each day. Incorporating some simple habits or making a few small changes can go a long way when it comes to hitting the mark on proper hydration.
Keep it in Sight
You're more likely to go for more water if you keep a bottle or glass of water within arm's reach throughout the day.
Create Daily Habits or Triggers
Make it a habit of drinking at the same times each day, like first thing when you wake up, during and after your workout, during your morning meeting, lunchtime, mid-afternoon, on the commute home, while watching your favorite tv show, when you get ready for bed, etc.
Or set specific times for every 2-3 hours (i.e. 8am, 11, 1pm, 3pm, 5pm, 7pm, 9pm) to drink 1-2 cups of water.
Try putting a note on the fridge or on a mirror so every time you go into the kitchen or bathroom, you're reminded to drink a cup or refill.
Use a Straw
Sometimes sipping out of a straw can feel easier than chugging a glass of water.
Invest in a Bottle (you'll actually use)
Think about what features are important to you, like:
Size
Does it mark the ounces/liters on the side of the bottle
What's it made out of (aluminum, plastic, BPA-free)
Insulating or not
Connected lid or cap
Can it be cleaned easily
Dishwasher safe
Will it fit in the cup holder
Does it need to have a handle
Color/pattern/design
Have Technology Help You
If you love your smartphone and are into getting the newest and best apps, technology might be the way to go. Check out one or more of the following:
Water tracker apps
Set an alarm or reminder on your phone
Smart bottles – here are a few examples:
Turn it into a game or competition with yourself or your Fitbit friends. In addition to getting in your step goals why not challenge them to up their water game as well?
I challenge YOU to try and incorporate one of more of these tips to see if you can increase the amount of water you're drinking. Give it a month and see how you do. Stop by my facebook page and leave me a comment to let me know!
In the final Part of this series, I'll give you some recipes and ways to give water a little more flavor while keeping the calories low.
If you found this information helpful, feel free to hit that share button and pass it on!
And in case you missed the rest of the series, you can find it below:
Part 1 – How much water you should aim to drink each day?
Part 2 – Reasons and benefits you get from staying hydrated.
Part 3 – Signs of dehydration.
Part 5 -15 Hydrating Recipes (for when you just don't want to drink water)